Sales & Marketing Teams Are Using IndiVideo & HubSpot to Maximize ABM Data
BY BLUERUSH | PERSONALIZED VIDEO
B2B sales and marketing teams are looking for the latest ABM or account based marketing tools to strengthen customer relationships and close complex deals. The premise of ABM is to be aware of the 'account', and focus on the relationship with the key account, rather than the individual.
This strategic B2B business approach is being adopted by more organizations, including HubSpot who has worked to release account-backed marketing tools within their portal. Considered one of the most powerful and user-friendly Customer Relationship Management (CRM) systems, HubSpot ABM tools are working to bring together marketing and sales teams. These tools help teams identify accounts, track engagement, measure activity with individuals, and use analytical data to create reports that improve the process of providing solutions to customers problems.
How do ABM tools work?
The basis of ABM is essentially a highly personalized form of marketing, that customizes each interaction throughout the customer lifecycle. It is important that marketing and sales teams understand the influence they both have on customers. Sales teams goal is to connect with customers, while the Marketing team's goal is to ensure branding is on point and communicate pertinent information. It's crucial they align for a comprehensive approach to ABM.
IndiVideo helps sales and marketing teams have an impact on high-value accounts and track engagement using the ABM tools in the HubSpot portal. With IndiVideo, HubSpot users can create, distribute and optimize personalized videos at scale that improve demand gen, increase conversions, and win deals.
Personalized videos show target accounts how relevant your services are, and how your valuable content aligns with their needs to grow a long-lasting customer relationship. HubSpot + IndiVideo ensures you to add videos to your campaigns, measure their impact, and automate next steps to convert prospects.
Let's take a look at how companies are currently using IndiVideo + HubSpot to drive sales and marketing activities and build relationships with more engaged contacts.
5 EASY WAYS TEAMS CAN USE HUBSPOT + INDIVIDEO to reach ABM goals
With 90% of people saying videos influence their purchasing decisions, B2B teams everywhere are looking for ways to use video to improve marketing and sales efficiency. Together, IndiVideo + HubSpot, offer you the most efficient wat to bring best-in-class customer experiences through video. Here are a few of the benefits of using the IndiVideo personalized video platform integrated with HubSpot.
1.

Engage Customers At ALL The Touchpoints
IndiVideo + HubSpot enables engagement, education, empowerment of customers across all touchpoints through the customer journey. With just a click, you can integrate data-driven videos into all HubSpot email marketing campaigns, social posts, websites, sequences, and flows.  Reviewing the analytical data allows you to determine which points work better and map out the content you would like to share with customers.
When you strike the right tone with your customers from the get-go – showing that you have their best interests at heart– trust forms naturally. This results in better engagement, which is easier to achieve with great content. Content is significantly improved with templates designed to match your client's specific journey. IndiVideo offers templates for every stage of the marketing and sales journey that will help educate and convert customers.
Templates are easy to use. HubSpot personalization tokens and the IndiVideo integration will create a personalized url that you can hyperlink in your content, either in text or with an image to a landing page tailored to the HubSpot contact.
Now, every contact on your list will receive a personalized video that is generated with IndiVideo integration wicket within HubSpot.
2.

Coordinate Omnichannel Marketing Campaigns
When most people think of HubSpot CRM they think of email campaigns. Email is only one part of the outreach process. You can add data-driven personalized videos to all your HubSpot content including social media, text, mobile apps, SMS, ads, QR codes, and of course, email.
Omnichannel customized campaigns that are powered with customer data are a proven ABM strategy to convert customers, reduce time costs, and enhance the customer experience.
Don't forget one under utilized omnichannel aspect of customized landing pages for your website, and it's even easier if your website is hosted on HubSpot.
Once your video is released in your campaign, HubSpot CRM is seamless and live analytics track its performance across all metrics. There's no limit
3. Capture Leads
HubSpot offers a clean and easy-to-use lead management tool that is scalable and cost-effective. Once IndiVideo is connected to your HubSpot account through the integrations section in your project portal, you can define exactly which data that should be collected and used for personalization.
HubSpot's powerful reporting tools allows you to track every interaction and view data to generate leads from all your video content. These insights allow you to create segmentation of audiences and generate multiple solutions to boost and optimize lead generation, resulting in more conversions.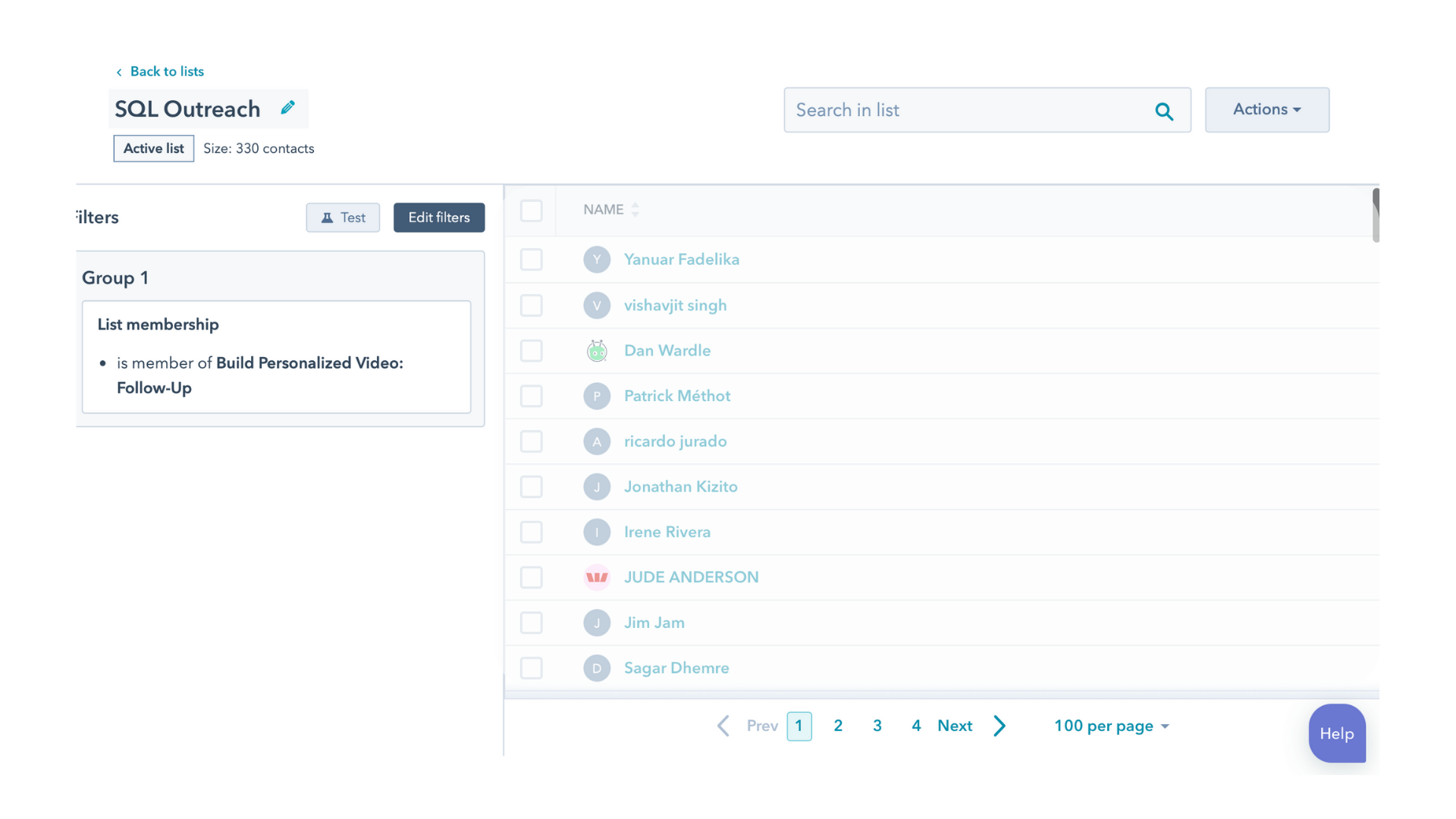 With personalized videos used across every stage of the sales lifecycle you can generate more leads, close deals, and improve relationships with customers.
The Power of Personalized Video
See how easy it is to build your own personalized video with IndiVideo.
4. Automation at Scale
IndiVideo integration for HubSpot provides users a streamlined way to use customer data in HubSpot across multiple channels to send personalized videos. Having accurate and up-to-date customer data is essential part of sales and an essential account based marketing tool.  The automatic syncing ensures data is constantly updated, which leads to increased efficiency and reduces outdated information, human error and countless hours spent on data cleanup.
Now that salespeople are not wasting time reaching out to people no longer at the company, their ABM marketing efforts are enhanced by leveraging the proper data for custom data points like first name, company name, job title, and more. Teams are more effective and can use these data points to inform and update their workflows for future campaigns.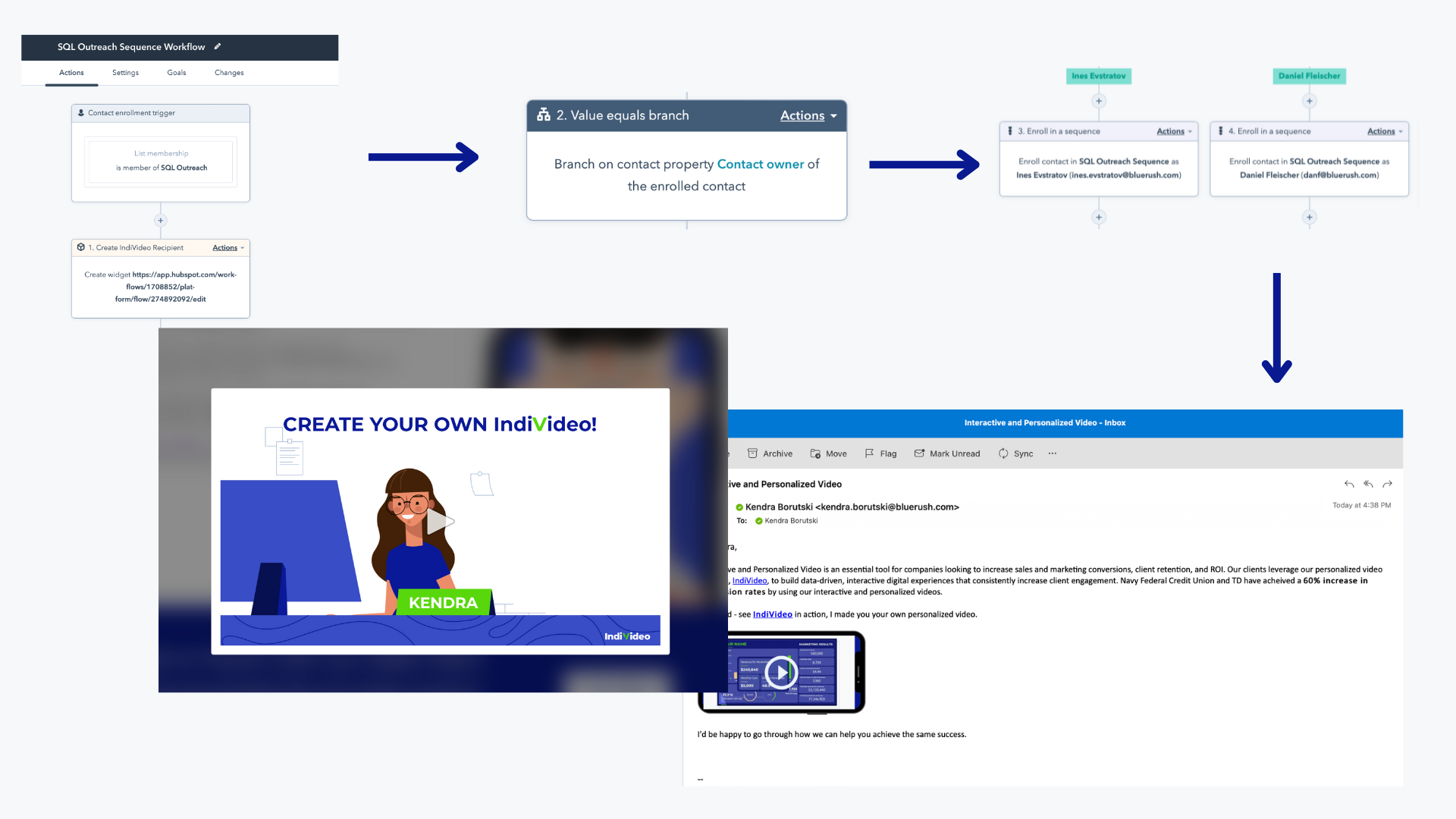 5. Track Your Data to Optimize Future Campaigns
Tracking campaigns is important to see how effectively you are engaging customers.
IndiVideo offers full analytics to see how well the personalized video is performing. This can be as simple as general watch rates by device, time of day, website visits, email clicks, etc. or as detailed as engagement by persona or sales conversion flows. You also have the option to pass data directly to your own analytics engine or use Hubspot's reporting features to build customizable dashboards based on any metric in Hubspot's marketing, sales or customer service software.
The IndiVideo integration with Hubspot allows users to access their collective data to build campaigns for segments of CRM accounts for email, sales, and marketing outreach. These pertinent intent and engagements facts can then be used to create customized and optimized campaigns that have a positive impact on ROI.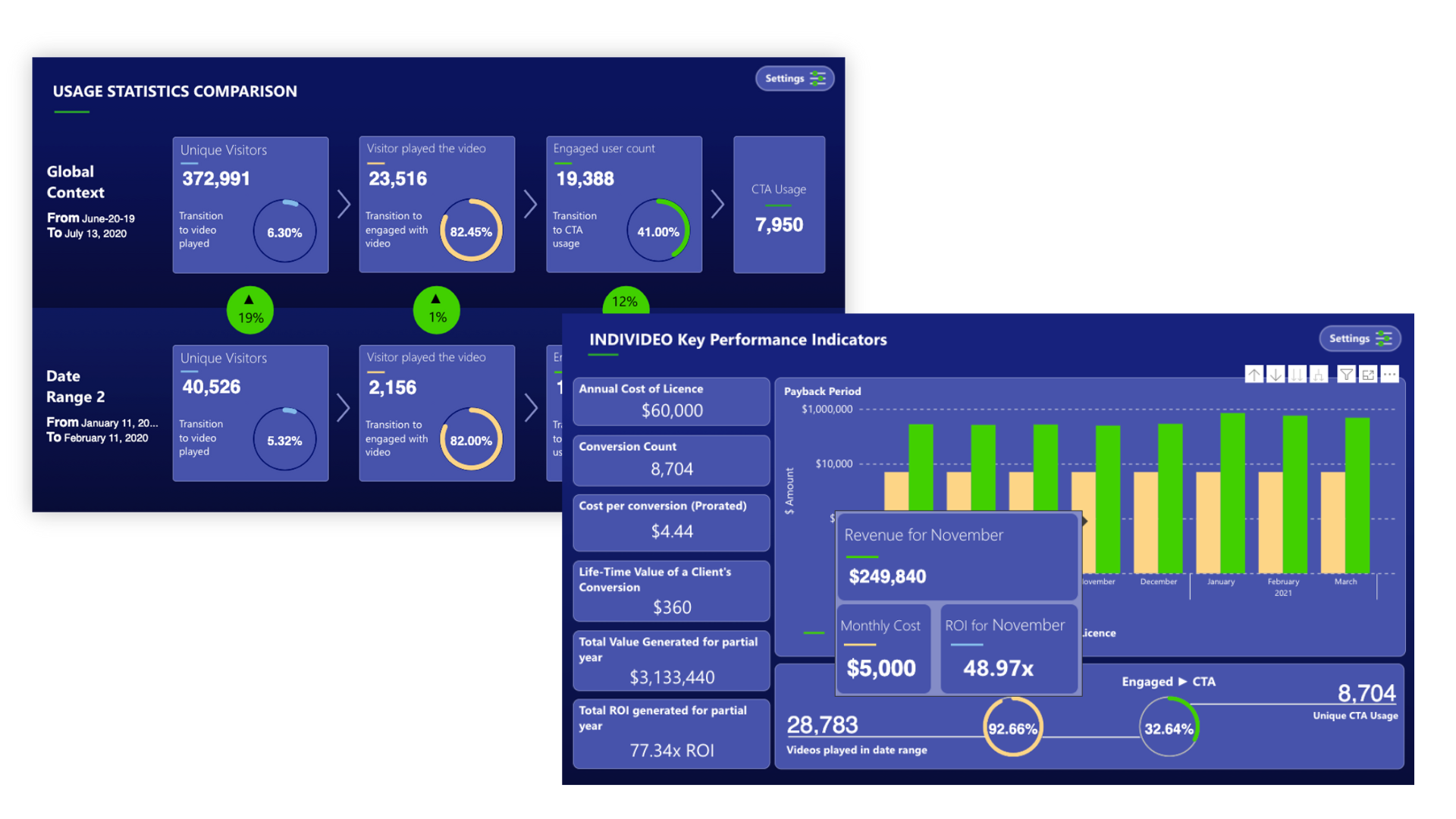 With INDIVIDEO & HUBSPOT there are No limits
Collaboration between sales and marketing teams is now easier. IndiVideo + HubSpot integration ensures a seamless transition for customers between the marketing and sales activities, ensuring success. In fact, with 80% of consumers inclined to do business with a company if it offers a personalized experience, IndiVideo + HubSpot is an essential ABM tool.
Not only is it a wise use of resources, the IndiVideo + HubSpot integration allows marketers to market and sellers to sell. With clearly defined roles and responsibilities, and enhanced data analytics ensure better targeted and optimized campaigns.
All of this comes together to offer customers a seamless experience that ensures success.