A personalized approach to educate and empower customers to change their savings habits.
A personalized approach to educate and empower customers to change their savings habits.
The Challenge
Desjardins Group – the largest federation of credit unions in North America – needed to increase engagement with their My Savings Goal program, a built-in feature of their banking app. Their goal was to increase overall contributions made by clients and motivate them to key actions, such as a targeted savings goal.
Banking apps are complex and clients often have trouble piecing together all the details in an easy way, while also getting motivated to take the next step.
Our Solution
BlueRush used IndiVideo to leverage customer data to create a customized 1:1 video experience unique to that member: a personalized savings performance report that educates viewers on the power of savings, connects with them personally, and motivates them to achieve their savings goals quicker.
Included in the IndiVideo:
Personalized information including the client's name and savings goals.
Animated figures and graphics detailing their goals and whether they are on target.
Options to maximize savings goals through additional features like automated deposits.
Projections showing how much sooner they can hit their goal through recommended contribution increases.
CTA encouraging clients to make additional contributions.
Dynamic display of savings and activity
Dynamic display of savings target
Personalized savings goal graphically represented
The Journey Begins

A client logs into Desjardins' banking app, enrolls in the 'My Savings' program, and sets up a savings goal (e.g. retirement, saving for a purchase, or a travel fund)
Personalizing the Journey

Customers can track progress toward savings goals by accessing a personalized video within the app. With a click, IndiVideo delivers a customized performance report of this progress, complementing existing e-mails and statements.
Maximizing Options

The video also offers contextual advice to clients, like increasing contributions through features they may not have tried, such as automatic deposits, to maximize success in achieving their savings goal.
Data Gathering
Desjardins receives insights about customer interactions with the video – e.g. who watched the video, for how long, and if they took action – to refine engagement strategies and personalize future offerings.
Personalized Journey Success!
Clients don't feel left on their own to meet their savings goals. IndiVideo supports their journey, explaining and encouraging their savings activity, and provides advice to maximize success.
conversion rate for engaged customer who viewed the video
Personalized Video for Financial Performance Reports
Financial service providers can leverage the power of IndiVideo reports to
Engage clients
with 1:1 interactive personalized experiences, tailored according to their data
Visually Educate

customers about opportunities and motivate them to increase contributions
Improve CX

and boost customer satisfaction while decreasing customer care costs
Strenghten relationships

Strengthen the customer relationship for cross-sell and upsell, build trust and lifelong loyalty
IndiVideo Interactive Personalized Video Platform
Transform Financial Performance Reports into an Exceptional, Engaging Digital Experience
Stay relevant, simplify complex information, and address customer needs – in other words, create an exceptional digital experience – using BlueRush's Interactive Personalized Video Platform, IndiVideo.
Data-driven personalized videos boost engagement and motivate contributions for a singularly satisfying customer journey. Better informed clients are empowered to meet their financial goals, and this confidence helps build trust and loyalty with your brand. Built for cost-effective scaling, IndiVideo can also be securely deployed behind your firewall without comprising your data.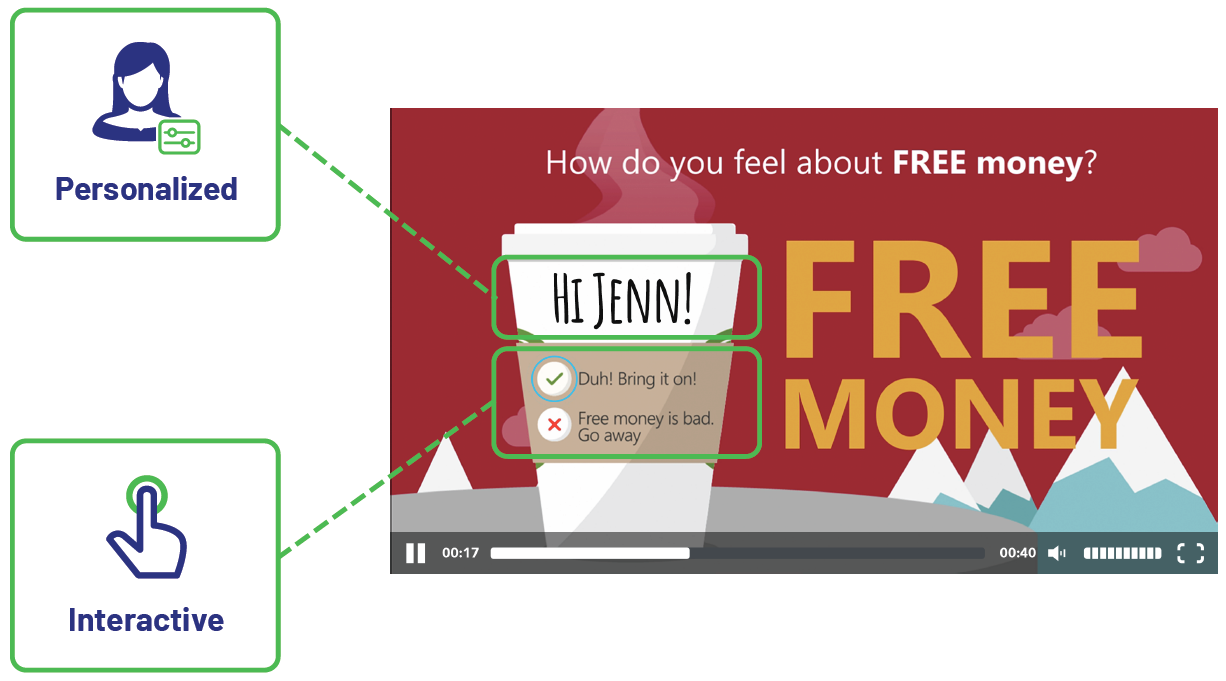 Get in Touch with our Sales Team
See how easy personalized video can be, schedule a live demo of BlueRush's IndiVideo platform and discover what's possible.