Interactive game directly engages prospects to promote product and increase enrolment
Interactive game directly engages prospects to promote product and increase enrollment.
The Challenge
CIBC wanted to promote their Aventura travel rewards credit card, with an engaging and innovative digital solution that both leveraged their new brand mascot and encouraged enrolment, especially among millennials.
Our Solution – Percy's BIG Adventure
We created a simple yet informative interactive online gaming experience starring Percy the Penguin. With a fresh approach to credit card applications, CIBC became the first big Canadian bank to use social gaming as a promotional and sign-up tool, helping customers better understand card benefits, increasing applications and overall visibility.
Ideation
We struck gold with an accessible idea that evoked travel: have players fly Percy through levels that represented different countries where Olympics have been held.
Next Level Game Design

Our team of creative designers engineered engaging and relatable visuals, UX, and gameplay to make the experience approachable and fun.
Value-Added Journey Information

Customer education and conversion were prioritized by incorporating product and enrolment information about the Aventura credit card on multiple screens.
Strong, Innovative CTAs
A shareable leaderboard and an enrolment option to redeem in-game points into Aventura rewards encouraged engagement and sign- ups.
Iteration and Testing
The game levels were built, tested and – after iterating to execute the best customer journey and gaming experience possible – approved by CIBC.
Focused Targeting

With their love of both games and travel, we targeted millennials who followed CIBC on social media, inviting them to play and share their results.
Roll-out Strategy

Incorporated into social media campaigns and bolstered by digital ads placement, the game's popularity raised CIBC's profile as an innovative marketing leader.
Data Gathering
Robust tracking metrics means CIBC received data-driven insights to improve the customer journey, open up cross-marketing opportunities and refine their conversion strategy.
Results
A first-of-its-kind interactive gaming experience engaged a key demographic to apply for credit cards, paving the way for new CIBC digital initiatives, like a better banking app, to deliver an enhanced and exceptional customer experience.
in credit card applications
of digital application process and new brand mascot
of CIBC as an innovative marketing leader
IndiVideo Interactive Personalized Video Platform
Transform everyday info into a fun interactive games or personalized videos

Create exceptional experiences that nurture trust at every stage of the customers' journey, cost-effectively, at scale, and in an environment built for data security and compliance. BlueRush's interactive game and personalized videos, create memorable and relevant experiences that keep customers informed about and invested in your business.
Our engaging interactive solutions – like IndiVideo, our leading personalized video platform – are built to simplify complex products and information, meet customers on channels they prefer, and deliver you both the data and ROI to continually improve your outreach and conversion strategies.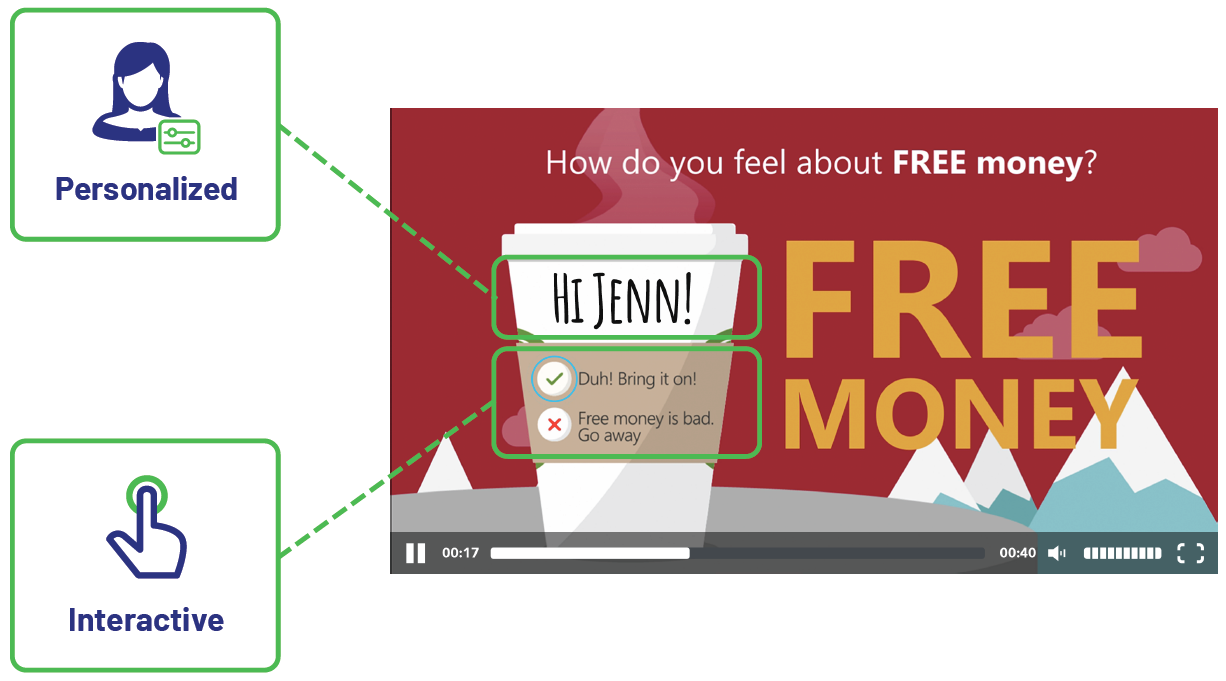 Get in Touch with our Sales Team
See how easy personalized video can be, schedule a live demo of BlueRush's IndiVideo platform and discover what's possible.